This Miscellaneous Edition will be short and sweet!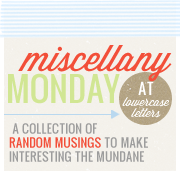 Home Sweet Home
Waiting for Daddy at the airport....way past bedtime
Seeing Daddy come back from his 20 mile run
Daddy walks into the room
Catch the theme here? This little guy LOVES his Daddy. He is so happy to have him home and has adjusted so well!! I am so thankful!
King of the Sidewalk
My husband is a serious athlete. He'll probably read this a few days from now and be embarrassed but I can't help but brag on him a little bit. I won't give you a laundry list of all the marathons and ultra marathons he has completed but I will tell you what he did this weekend. 20 miles. Ok, maybe not such a big deal for a regular weekend. But he did this the day after he got home from traveling for 50, yes 50 hours in airplanes and airports to get home to us. Now that is a serious athlete!
Playground Fun
It rained the whole way there and the Little Guy refused to nap yesterday so I thought it would be a disaster but he had a blast!! I loved watching them play together and it was fun to get to see him get to do some of the big boy slides since no one else was at the park!
Photo Finish
I finished up my photo class this week. I've really really learned a lot. I'll be sharing a few pictures later this week! I want to keep practicing and practicing and thankfully we have a new and slower moving subject on the way! I'm determined that Baby Boy 2 (yes, he is STILL nameless) will have just as many pictures as the Little Guy!!
Hope your Monday is fabulous as always!!