Y'all may remember me posting about some fabulous little earrings I picked up for myself a few weeks ago. Well do I have a treat for you!
I've had sort of a bloggy/instagram/etsy crush on Hannah from Happy Days for a while. I kept seeing people posting pictures of her bright and cheery jewelry. Her comments to friends were always so uplifting and sweet. And once you get into the down and dirty of her blog you can't help but notice what a wonderful wife, mother and child of Jesus she is! She just radiates it!!
I'm often encouraged by her posts, verses and just her attitude about life. It challenges me in a good way! And it doesn't hurt that she makes gorgeous jewelry. I might have a little obsession with jewelry.
My favorite thing about her jewelry is that part of the profits from many of her pieces go to missions. You can learn more about the various organizations here!
http://www.owenstoafrica.com/
http://www.aimint.org/usa/
http://usa.ntm.org/content/search?q=southern+tepehuan
http://usa.ntm.org/missionaries/barry-and-candy-wingo
http://hope4sudanblog.blogspot.com/
Don't you just love her already?!?
So...Hannah, otherwise known as wifeysinger has offered you the chance to win a beautiful pair of earrings!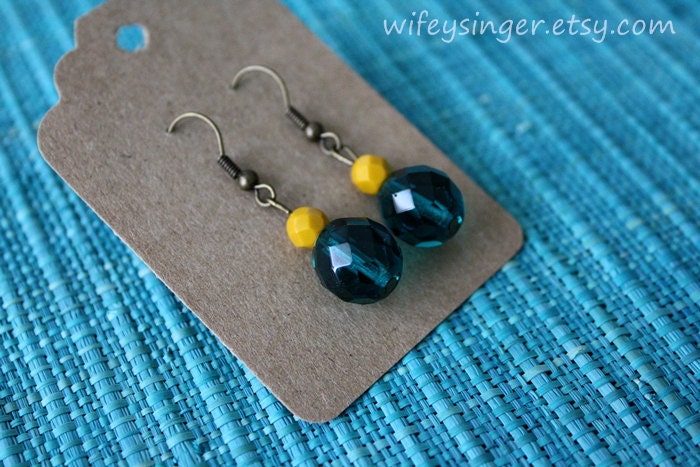 I guess it wouldn't be fair to win my own giveaway. But seriously....I am loving these!!!
This giveaway is open to readers worldwide and will run from tonight until midnight (EST) on Sunday. That way if you just happen to want to give these as a present you'll have them by Christmas!
Hannah is also offering free domestic shipping on ALL of her jewelry too! Just use the code CHEER (valid through 12/10).
If you'd like to enter do any or all of the following...Please comment for EACH item you complete! I'd love for you to follow along here but you don't have to!
1. Visit Hannah's
ETSY shop
and comment on your favorite item
2. Follow Hannah on
Twitter
3. Follow her blog
Happy Days
4. Follow Storybook Reality
5. Follow Storybook Reality on
Twitter
6. Follow Storybook Reality on
Facebook
7. Pin this post on Pinterest
8. Tweet, blog or facebook about the giveaway
That's like a billion entries per person! I'll randomly select a winner and post it on Monday morning!
If you don't win you'll still have time to make the Christmas deadline. Purchases made by December 14th will be shipped in time for gift giving!!
Merry Christmas and good luck!!