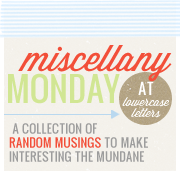 1. My parents are here this week. They came to celebrate Stafford's dedication yesterday and to visit one last time before The Move. (I feel like I need to refer to The Move this way because it is looming and coming WAY too fast!) I came back from the gym this morning and my Mom had done 2 loads and laundry AND they are keeping him while we have a date night tonight. My Dad is now painting our stairwell and helping me with some projects. Why are we moving even farther away from wonderful grandparents???
2. This table is getting ready to be my first DIY project. My dear friends the Porters gave us this table and for some reason I just really like it. What I don't really like is the weird edge on the top of it. Last night my Dad and I realized we could unscrew this piece and get rid of it! So we did! I still need to sand the top of this thing but I am going to sand it and then paint it with chalkboard paint!! It's the perfect height for the little guy and I think it will be great fun to play with!! I be sure to show you the after pictures
3. Last week I made a vow to get healthier. I also said I was going to start couponing. I wish I could find a coupon for more time. There is just no way to do all the things I want to do. So for now the couponing is on hold and the exercising is at the top of the list. I went Tuesday, joined the gym and signed up for a personal trainer. I went to the gym 4 times last week (5 if you count today's ridiculous session with the trainer after which I almost lost my breakfast) and I am really excited!! I'll keep you updated on my progress.
4. We have a stairmaster in the house. Stafford has mastered the stairs. Well, going up the stairs. We're working to teach him to go down but watching the amount of joy on his little face when he conquers those stairs just melts my heart. I guess him getting to the top of the stairs makes him feel like I felt when I finished my race.
5. I've mentioned these fabulous people before but you really must check out the work at
James Riley Images
. They did a short photoshoot for us last weekend and as always the pictures are fabulous!! If you are looking for someone to do pictures for you here in Charleston look no further!!
Don't forget to enter my
giveaway
this week...celebrating my first year of blogging!!!
Have a fabulous week! I'll leave you with a picture of the little munchkin.....I just can NOT get enough of the Little Guy!!