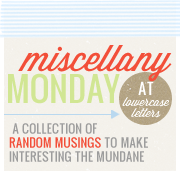 1. Bargain Hunters
We had a garage sale this week and let me tell you-these garage salers are ruthless!! Brand new Express Editor pants with the tags on....they'll give me a dollar. 2 King size comforters with pillow shams included....they give me 12. Cute night stand....they give me 10 but they want 2 dresses included. What is this BOGO? Stay tuned for my in depth dissection of our garage sale.
2. Couponing
I'm going to bite the bullet and figure out how this thing works. Harris Teeter has triple coupons this week. Next weekend I'm taking the plunge!!
3. Summer Lovin
I am loving summer here in Charleston so far. The weather has been perfect. Warm but not hot. Cools down at night. I am massively jealous of my friends who are pregnant this summer instead of last!
4. Purple?
Why oh why are size 3 diapers purple? I just don't think of purple as a gender neutral color. And even if it was, it is dark and it shows through the cute white onsies I bought for Little Guy to hang out around the house in. Size 3's are aptly called "Cruisers" and that is what we are doing in this house! Little Guy is everywhere. Baby gate at the top of the stairs is now installed. And poor Bear is on the run most of the day.
5. Getting Serious
I revisited my "new years resolutions" and I have to say I'm slacking on some of them. In particular the area of being physically healthy!! Yes I ran a half marathon but other than making me more cardiovascularly fit it did nothing for my waistline. Joining the local gym with childcare TOMORROW!!
Hope you have a fabulous Monday. On the blog this week I'll be sharing my true feelings about our garage sale, some KY Derby recipes that are easy to do at home, picture of the Little Guy of course and our bucket list for Charleston since we only have 2 months left!!!