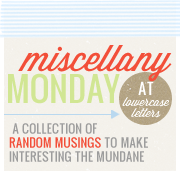 1. motivation
Who took mine? I'm not sure what my issue is lately but it seems like every time I decide I'm going to get something done I end up doing something else. My house is atrocious! Maybe I need to schedule a party so I can force myself to clean. Maybe I just need to clean because it is the right thing to do!
2. a winner
Speaking of clean, my sweet wonderful husband surface cleaned the entire house while Little Guy and I were in Pennsylvania. I came home to nothing on the floor, toilets cleaned, dishes clean, all the floors vacuumed. What a guy!!
3. garage sale goddess
While we were in Pennsylvania we cleaned out my Grandma's garage. It was a disaster. My Grandma can barely walk due to a bout with polio as a child so she really depends on us to help out with that kind of thing. I kind of thought we'd find some buried treasure but I should've known we wouldn't. If there was any treasure she knows how to turn it into money. For three or four years in a row she'd have a garage sale and make over 500 dollars-mostly on junk! Sometimes she'll pick up something from the side of the road, wash it and then sell that!
4. always something about the move
In preparation for the move we're having our own garage sale. I LOVE getting rid of stuff. I HATE storing it in my house until the garage sale. I can not WAIT until I have that space back. I LOVE empty space.
5. can't leave out the Little Guy
I'm in the process of putting all of the Little Guy's 3-6 month clothes away. It is so sad!! I love these little outfits and the memories they already evoke. I know I'll love the next set just as much but it is evident that he is growing and growing fast! I can't wait to take him for his 9 month appointment in a few weeks to see how big he is getting.
6. another kind of clean
Sometimes cleaning my house reminds me that I need a little spring cleaning of the heart! Working on that this week as well especially in preparation for Easter.
Hopefully next week I'll have wonderful progress to show you!!
Happy Monday!!
This guy loves getting clean!!
I need a little helper like Nola-"cleaning" the floor with wipes.