Here is my picture for the week! Yay, I've made it two weeks!! I'm determined to pick up the camera a little bit more this week. And I can't wait to get home and edit this one a tad. But regardless loving my sweet Little Guy's smile and hairdo!
Have you tried this delicious snack? Obsessed might not be a strong enough word at our house. They are supposed to be eaten on salad, kind of a crouton substitute, but they are oh-so good as a snack! I was first introduced to these chips on a missions trip to the Dominican Republic. After 7 days of showering with pigs (that story is for another day) and eating beans and rice one of the girls busted these out of her bag. It's taken a few years but you can now get them at your neighborhood Walmart. When the Big Guy is at home we might or might not go through a bag of these at a time.
Ok, I don't know how "natural" these little nuggets are from Florida's Natural but regardless they are yummy! They taste like a mixture of jelly beans and fruit snacks. Plus I like it that they come in multiple flavors. And there are about 40 little pieces in each packet. The more pieces there are the longer it takes to eat....which is great when you have a toddler.
On these chilly winter days I have been enjoying hot apple cider. That fits along the likes of this "everything fruit flavored tastes amazing"' pregnancy. Plus I figure indulging in that is a little better than my other craving....buttercream filled donuts.
My sister in law is a cute dresser and she gets about 75 catalogs a week. She buys things from places I've never heard of. Today the Sundance catalogue came in the mail. I seriously wanted everything in it! The shoes, bags and clothes are adorable.....and seriously out of my price range! Here are a few of my favorites....
Isn't it all so cute?!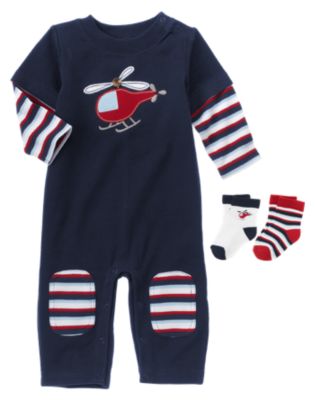 At our house we love anything red, white and blue and especially stuff that has airplanes. Loving Gymboree's newborn line right now! Helicopters are cute too! I shouldn't be as happy as I am that my boys are being born in different seasons but I never need an excuse to shop!
Speaking of new babies....so excited to welcome little Nolan into the world!! Congratulations to our friends on the birth of baby boy number two!!
Please tell me you noticed my amazing new banner and blog look! My friend Amber from Click.Pray.Love. helped me out and I am super excited about it!! You can now find me on Pinterest AND Facebook (I know! So awesome!). Thanks for following!!