I've been particularly joyful today and I'm thankful for that. The holidays were HARD this year and I kind of felt like I was in a little bit of a funk. The massive cold that I'm still battling as well as the Little Guy being sick certainly didn't help things. Regardless here are a few things that are my favorites this week!
1.

Have you heard of this guy? He's AWESOME. Capitol A-awesome! This CD is on repeat in my car and I can't get enough of it. The lyrics are awesome...uplifting....and totally speak truth into my life. You might have heard his breakout song "My Savior, My God" a few years ago. Same guy...new music.
2. and 3.
Gorgeous flowers--a surprise from my sweet husband today. These make me smile.
AND
I am loving this new sweater I got for my birthday!! It works now for being pregnant but it will work after I have the baby too! I've been feeling kind frumpy lately and honestly after 7 years of living in Charleston everything in my closet is short sleeved and cotton! I'm excited to start adding some cold weather clothes into the mix!! And personally I think this one is a great start!!
4.
This Little Guy is my buddy. We spend a lot of time together and thankfully he still puts up with his Mama! He loves to brush his teeth and will do so whenever I let him. These pictures aren't the greatest but they definitely shows this stage that he is in perfectly.
I love love love this picture. Little Guy has realized that outside my parents house he can see "trucks" (all vehicles are trucks right now) and every chance he gets he wants to look out the window to see them!
Last year I attempted to do the "Project 365" and I quit halfway through. With the move and pregnancy I thought participating in the "Project 52" would be a much better way to get out there and use my camera. I always felt guilty if I missed a picture! So these two pictures represent my desire to start a habit (brushing teeth is a habit so it's symbollic!) of taking pictures again! I'm really excited to get started and can't wait to see my 52 pictures at the end of the year.
5. Donuts
My entire childhood was spent in Lexington, KY. We didn't really leave our area of town all that often because everything we needed was right here. The older I get and the more into food I get the more I want to explore good food and especially local food. A couple of years ago one of my good friends wanted to meet for coffee (the Pecan Roast is divine!) and donuts. If you know me you know I'll never turn down a bad donut, let alone a good one! Now everytime we're in town we meet at this little Lexington gem called Magee's Bakery. We had lunch there today and I had a donut and a hot ham & brie sandwich. Mmmm....divine!!
Hope you are finding lots of favorite things to be thankful for in your life this week too!!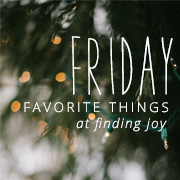 PS....If you aren't a follower of our little slice of reality here please become one!! And leave me a comment so I can visit and follow you!