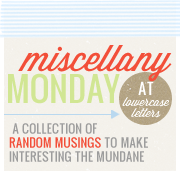 1. What's Your Favorite Color Baby?
Blue & White! I have to give a shout-out to the CATS again! The handily beat #1 overall seed Ohio State and perennial power UNC this weekend to advance to the Final Four. The last time the CATS were in the final four I was a senior in High School and we won it all. Go Big Blue!!!
2. Migraine Brain
I've never been officially diagnosed with migraine's before but I'm pretty sure I get them. I started going to the
chiropractor
a few years ago and it has made all the difference in the world. I still get headaches occasionally though and this weekend I had a doozy! I have to sleep them off and this one refused to go away. Thank goodness for my super sweet spouse who took my super son to church this morning so I could sleep the headache away. I've figured out that red onions, too much sun and sometimes not eating soon enough trigger my headaches. Hopefully this is the last one for a while!
3. Giveaway Central
I've been wanting to do a giveaway for a while now. I've been trying to decide what I would want to win most. I haven't blogged about it yet and honestly my obsession with this place probably deserves it's own post but I think I'm going to giveaway a piece of jewelry from my favorite store:
Handpicked
. I discovered Handpicked when I first moved to Charleston, almost 7 years ago! Since then it has taken a good portion of my paycheck because their jewelry is irresistible as well as reasonably priced. Recently they started a preferred customer program so I'll be stocking up before we make the big move!
4. The Move
I've been blogging about the move a lot lately because it seems to be looming!! In some ways I'm really excited about it and then other times it doesn't even seem like it is really happening. One of the most interesting things about moving is looking for a new house. Peter bought our house here before we were married and it has served us well but I can not WAIT to pick out a new house (even if it is just for a couple of years). When I first started looking for houses I thought that there was something wrong. No houses in Tacoma have air conditioning. What? This southern girl was a little confused. I mean honestly if a house doesn't have air conditioning where I'm from there has to be something wrong. And that is when I realized that they don't have it because they don't need it.....and I am definitely in for some major weather shock!
5. Postal Pal
I never thought I'd say this but I LOVE internet shopping. Now that I have Little Guy going out to shop just isn't quite as much fun. He is a great shopper but I hate lugging around the carrier especially when I just need 1 thing from 4 different stores. I don't really online shop that often but this week I had some purchases I needed to make and they just all happened to come the same week. It was like Christmas in March! Granted 2 of the purchases were running shoes (mine had a hole in them) and a case for my ipod so I can run with it. But still, I love getting packages!! You could probably send me an empty box and it would make my day!
6. Grill Week?
Yeah, I totally failed on last weeks promise of grilling goodness. I'm going to try again this week. I still have some fun recipes picked out and my sweet husband went to the commissary today for me so I'm all set with ingredients. I let him do the grilling tonight-venison burgers!
I think the Little Guy is teething and it is making for some fussy days and nights! So thankful for that Little Guy though.....he just melts my heart!!