It's Monday again!! That means it is time for all of my fun, miscellaneous thoughts.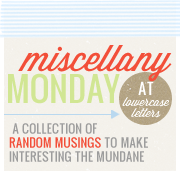 1. Shopaholic
I'm on vacation at "home" right now, visiting my parents and then Peter's parents. I swore that I would be able to get everything in the car on the way home. I'm even less of a shopper now that I have the Little Guy because it is too hard! But since Grandpa was available as babysitter this week I got a few fabulous things.
I got a FABLOUS framed picture of Keeneland racetrack....this isn't it exactly but it is pretty close...
I also found these MARVELOUS rainboots. Going to need those in Seattle!
(mine are in red and were SUPER cheap!!)
Little Guy got...
his first pair of shoes
and
and
and a few other books! Marshall's & TJ Maxx are a GREAT place to look for books!
2. Free Stuff
Since I've been such a shopaholic I need to tell you about these fun giveaways! Maybe I can win one or maybe you will!! Or maybe we both will!!

AND
AND
3. Sweet Puppy
I don't blog about the other little guy on our lives very much anymore. But I have to give major props to the Little Bear. He is SO good with babies! My sweet niece who is almost 17 months old has been chasing him around all week and he has been such a trooper! At one point he would let her throw his toy and then he would chase it down and bring it back to her and let her throw it again. Makes me excited for all the Stafford-Bear love that is coming our way in a couple of years!
4. Single Parenting....
is for the birds! My sweet man has been gone for 2 weeks and it is 2 weeks too many!! I can't WAIT to see that guy again!! (And I might just pawn a dirty diaper or two!!)
5. Disaster
If tragedy effects you like it does me find some way to help! Whether it is monetarily or simply through lifting our Japanese brothers and sisters up in prayer.....just do something!
My friend Courtney lives in Japan and she has blogged about ways to help
here
. Check out her awesome blog while you are there!!
Hope you are having a fabulous Monday!! Personally I am LOVING the time change and all that wonderful, extra light we have....even if it is super cold here!!