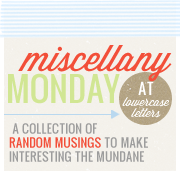 1. Sense of Style
I've always known I don't have much style. I buy my clothes by coping pictures in magazine or mannequins in the store. Or I just look frumpy. When it comes to the Little Guy though I've enjoyed dressing him and I've always felt like he has a look that is his own. Yes it's a preppy polos and khakis kind of look but I'm ok with that. It's original or ground-breaking but it fits him.
Tacoma has ruined that. Why? I can not find any clothes here!!! When I'm at home I do most of my shopping at Marshall's and TJ Maxx. If you go often you can find great deals on cute stuff. In fact I don't usually leave the store without something. Sometimes it's a book or a great wooden puzzle but oftentimes it's a great Ralph Lauren sweater in the next size up that was on clearance. Well in my excitement for the Littlest Guy I did all this shopping ahead of time but somehow stopped at 18-24 months. Now mid-season Little Guy needs cute 18-24 month clothes and I can't find ones I like anywhere. I've also noticed that the 18-24 month racks are always super small. Does anyone know if they purposefully make less of these clothes because people skip this size and go straight to 2T?
If anyone with good shopping wants to become my personal shopper from a distance please let me know!
2. "Cheese"
I've really been making an effort to pick up my camera more in the past week. Time is passing too quickly and I need to capture as many Little Guy moments as I can! I also joined the website ClickinMoms and plan to take a photo class in February. I don't aspire to become a professional but I really enjoy puttering around with the camera!
3. Our Charleston Living Room
We moved straight from one coast to another. Charleston at it's most stereotypical is palm trees and sunshine. We've had 55 and sunny all week here and this is my dining room wallpaper.
Yep! The first thing I asked my landlord was if I could please please pretty please get rid of this wallpaper. So Peter and I started taking it down only to find a crazy plaster mess underneath. I have a contractor coming today to help me make sense of the mess. I can't wait to have a normal dining room!!
4. Baby in the Cupboard
Did you ever read the Indian in the Cupboard books? Somehow Little Guy knows about them already. I have caught him multiple times "storing" his milk in different cupboards in our house. The other day he walked over to one, opening it up, got his milk out (thankfully it was from the last meal!), took a drink and then put it back! Today I let him put his "Cheeros" in there too.
You can see the other part of the dining room wall in this picture. This is where we started removing wallpaper and then stopped because it was such a mess!
Excited to be going in for my 28 week appointment today!! The closer we get to baby means we are even closer to getting Daddy!!! April is going to be an awesome month!!