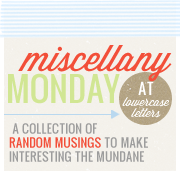 1. I'm determined that every post today won't be about sickness. But that is what we've been about the past week or so! I was absent from the real world and the blogging world last week due to a particularly nasty stomach but that resulted in dehydration and regular contractions. This led to an extra special evening spent in the ER and hospital up on L & D. Super fun! To top the week off both Little Guy and I had (and still have) horrible chest colds and he has a double ear infection. We know how to do sick around here!!
2. Countdowns abound in the house and we've added another one. Only this one brings super-quick gratification!! One of my dear sister-in-laws is coming to visit this week and bringing
The Accomplice
. I couldn't be any more excited!!! I'm praying for a couple of days of sunny weather so we can enjoy the beautiful area. Spring is springing here...it hasn't quite sprung yet....but it is still beautiful here especially when it is sunny like today!! Only 3 short days to countdown to this fun thing!!
3. Green Bean Casserole. Love it or hate it? I think it is strange. I think it looks unappetizing and I'd rather have a nice pot of green beans that were boiled all day with a ham hock. What about you? Are you a lover or a hater?
4. I start my ClickinMoms photography class tomorrow!! I'm REALLY excited and just hoping I will make small strides to improve and eventually move to taking pictures on manual. I'm also getting a new computer when Peter gets back (countdown number 2) and I can't wait to get Photoshop installed and eventually purchase Lightroom!
5. We are obsessed with bubbles in our house right now. That and "Mickmey". We're going on a Mickmey hiatus as soon as this Mama starts feeling better but I do feel bad for the Little Guy since he has been stuck in the house for a week. The bubbles however are here to stay. I invested in the Gymboree bubble blower thingy today. I haven't quite figured out how to work it. Maybe I'm not putting enough solution in? Tips are appreciated for you bubble blowing experts!
I hope your Monday is fabulous!!!
Couldn't resist throwing in a picture of my little man. Here he is playing with his new ball. Best 2.49 I ever spent!!